Holiday Loss & Grief…Walking through the Holidays with Joy
December 14, 2020 @ 1:00 pm

-

2:00 pm

Free
EnJOY a workshop full of suggestions & support to help you find ways this holiday to honor your losses & still practice good self-care.
With the holiday season approaching, we are constantly bombarded by images of happy families together sharing the joy of the season. You may find that you are approaching this holiday season with a sense of dread due to the losses that you have experienced…a death of a loved one, a divorce or a lifestyle change (loss of job, health, Covid) or estrangement that sets the situation where people who were important in your life are no longer present at your holiday celebrations and rituals.
For some people, anticipating, and perhaps even dreading, the upcoming occasion is worse than the actual day. Fearing that you may react badly, or ruin the holiday for others, can lead to feelings of grief and anxiety. There are several ways to approach these special days that will help you move beyond the pain and find enJOYment.
Joy Gaertner, Advanced Loss & Grief Recovery Specialist, invites you to explore strategies for coping with loss and grief during the holiday.
This free workshop includes strategies for :
Honoring loss: respecting and remembering the loss
Treasuring memories: keeping loved ones in the story
Making a Plan: discovering a way to move beyond the pain and find joy again
Practicing Self-care: finding balance physically and emotionally
Finding hope; through connection and ritualsThere is no right or wrong way to get through holidays and other special occasions. It helps to make everything you do a loving tribute to your loved one, while at the same time taking care of yourself. Keep or amend the traditions that they particularly loved so that you can still enjoy the occasion. Find a balance to honor both the loss and your personal needs for this present moment.
I invite you to begin…
Walking through the Holidays with Joy.
You will be sent the zoom link after you register on Eventbrite.
You don't have to isolate yourself during the holidays. It is all about…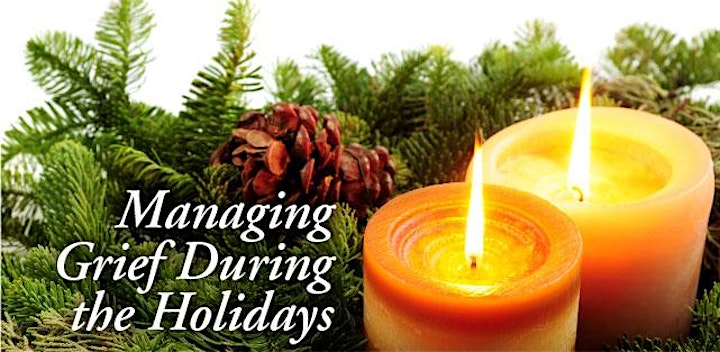 There are no rules for surviving holiday grief.
Do what you need to do to survive.
Honor your loved one how you need to, and do what feels best for your fragile, aching heart.
You are missing a huge piece of you, so do whatever you need to do to find a sliver of peace.
— Angela Miller